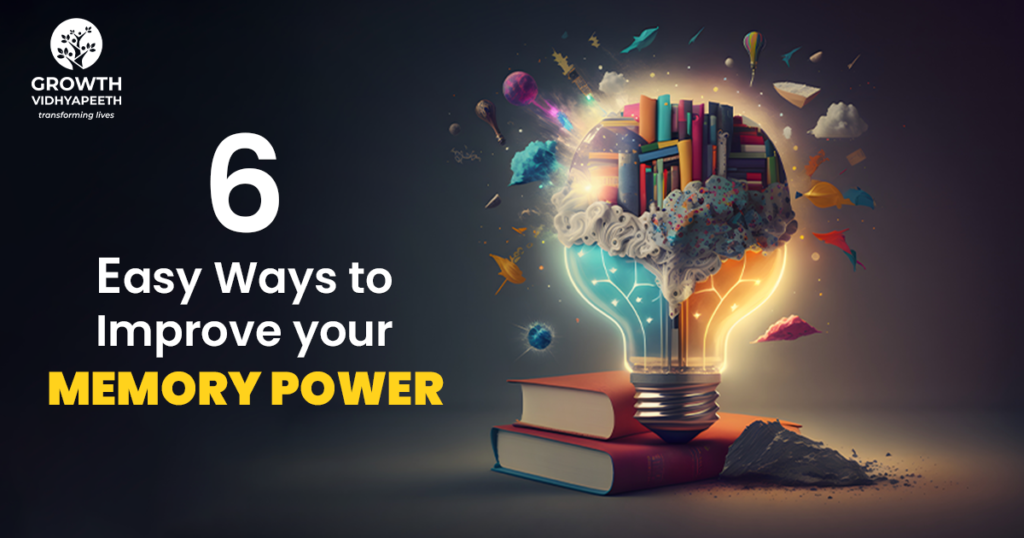 Table of Contents
If you're seeking to improve your memory power, incorporate these six simple yet effective techniques to enhance your brain's ability to remember information effectively and easily.
What is the problem?
Before jumping on to the major problem, let's bust a myth that might have encircled you too. You must already have heard a lot about increasing your memory. But the fact that you might be unaware of is that "You cannot increase or decrease your memory". Everyone in this world has unlimited memory power, it's only the level of utilisation that makes the difference. So, you can only improve your memory, i.e; the development of utilisation and not increase it.
Now, let's bring your mind to the problem we all are a part of.
The world is in the phase of digital evolution. And in this digital era, people are struggling with their memory power. The main reason behind this is the ease of setting reminders and storing information. But there are times when you cannot depend on material advancements for everything. And when you are a student, this door is completely closed. So, what can you do to improve your memory power?
We got you six of the most effective and easy methods to boost your memory power.
Ways to Improve your Memory Power
When it comes to boosting memory, you will hear innumerable things from different individuals. But, how will you determine which one's for you?
To set you free from your concerns, we bring six proven techniques to shoot up your memory power. So, if you are a professional seeking work excellence or a student yearning to make studies simpler, it's your time.
Let's get going!
1. Start Meditating
Meditation is an age-old practice for health amelioration. It is one of the best ways of reducing stress, eliminating anxiety and attaining peace. This soothing exercise helps in keeping your mind calm and strong. And a strong mind is always brilliant in memory too.
In addition to these, various research also claims that meditation increases Gray matter in the brain. It is the Gray matter that reduces with age which adversely affects memory power. Meditation is an all-rounder. It not only actively participates in keeping your body healthy but also helps to improve your memory power.
2. Get an Adequate Amount of Sleep
After a tiring and stressful day, do you think your mind will function effectively without adequate sleep? The answer is a big 'No'. A poor sleep schedule will result in constant stress, anxiety and a disturbed mind.
In addition to these, various studies also show that lack of proper sleep results in declining memory.
Adults, on average, must sleep 7 to 9 hours each night. So, in order to improve your memory power, you need to make changes to your sleeping routine. Hence, make this your priority, sleep well and remember more.
3. Learn, Read Out Loud, Repeat
Learning is a constant process. Also, this is something independent of age or class of people. Working individuals will learn to grow or adopt a new skill. A student will learn to excel in their academics. We do not need to mention here that memory plays the most crucial role in learning. And one of the most powerful ways of getting something stuck in your head is reading it loud. So, whenever you are going through a new piece, read it out loud, maybe multiple times and keep it in your memory for long. Getting habitual of this practice will help you in recalling whatever you have learned and improve your memory.
4. The Mnemonic Way
Mnemonic methods sum up to a unique and fruitful approach to boosting memory. We have listed a few types of Mnemonic you can employ.
1. Acronym
An acronym is an abbreviation or a word that is made up of the first alphabets of all the keywords you wish to remember. For example, SCUBA: Self-Contained Underwater Breathing Apparatus.
2. Acrostic
This one's interesting and every one of us has practised it once or more. Acrostic is basically a sentence in which the first alphabet of each word represents the initials of the words you want to memorise. For example, If you have to remember, say, 10 consecutive lines, you can form a unique sentence. This sentence will have words starting with the initial alphabets of the 10 sentences.
3. The Chunking Method
Chunking is a well-known way of breaking a large piece of information into smaller bits to ease memorising. You can then group the smaller parts again whenever you have to recall the whole segment.
5. Physical Activities
Exercising regularly is beneficial for both physical and mental health. Many research indicates that physical activities help in putting a halt to cognitive decline due to aging. In addition to this, exercise also raises blood circulation throughout the body. This also includes the brain. Hence, it also helps in keeping a healthy mind and may improve your memory.
6. Limit your Digital Presence
Coming to one of the most important aspects, cut down your dependency. Stop relying on your digital equipment for recalling purposes. With this, you will not be dependent on something and will develop your own potential for memorising things. Also, studies show that spending a lot of time on electronic devices like mobiles and laptops affects your mental health. So, if you wish to be mentally healthy and improve your memory, take a hold of your digital presence.
Conclusion
You cannot stop aging but you can adopt techniques to improve your memory power. The above-mentioned ways are not only effective but also fun to carry out. Try to incorporate these methods in your life and experience better memory power. Do share your thoughts and experiences in the comments below. Your feedback and suggestions may inspire others to try new ways to improve their memory.
About the Author
Bhuvan Dhanesha is a highly accomplished Memory Coach at Growth Vidhyapeeth and also serves as the President of the World Memory Sports Council in Maharashtra. He has conducted numerous workshops for students of all ages across India, Kenya, and Mauritius, training over 55,000 students on national and international levels. His unique and highly-effective memory techniques have helped students enhance their memory skills and achieve better academic results.
Mr. Dhanesha's exceptional memory skills are truly impressive, and he can memorize up to 300-400 words at a time, and bear a 200-page book in his mind in less than 7 days. If you're interested in learning more about Bhuvan Dhanesha's memory techniques, you can check out his course Super Memory Master or connect with him on LinkedIn to learn more about his work as a Memory Coach.
FAQ's:
Q. Is it possible to increase your memory power?
A. There's a very popular myth circulating around that one can increase their memory power. Actually, you cannot increase or decrease your memory. Everyone in this world has almost unlimited in-built memory. With time and due to various factors, we lose its optimum utilisation power. One thing that we can do is increase the utilisation power of our memory through various techniques.
 
Q. How can I train my brain to improve memory?
A. With these super-effective techniques, you can train your brain and improve your memory utilisation power:
1.    Regular Meditation
2.    Practise Reading Out Loud
3.    Indulge yourself in Physical Activities
4. Limit your Time on Digital Platforms
Q. How can I improve my memory power and intelligence?
A. There are many ways through which you can increase the utilisation of your memory power. Some of the most powerful ones are listed below:
1.    Meditation
2.    Loud Reading
3.    Mnemonics
4.    Physical Activities
Q. Why is my memory weak?
A. There can be various reasons for a weak memory. Some of them are:
1.    Mental Ailments
2.    Medications
3.    Brain Injury
4.    Improper Sleep
5.    Inactive Lifestyle
6.    Nutritional Deficiency