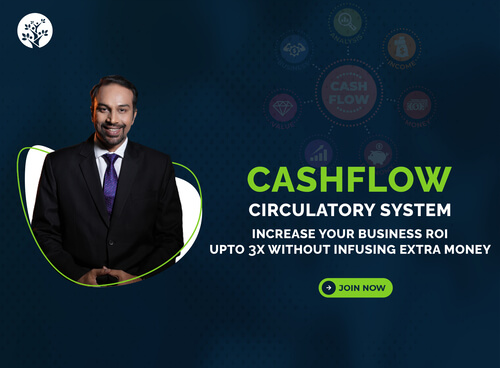 Event Detail
Start Date

03/26/2023

Start Time

09:00 AM

End Date

03/26/2023

End Time

01:00 PM

Location

Online
Cashflow Circulatory System Workshop
Cashflow Circulatory System Workshop will help you to 3X your Business ROI without infusing any further cash into your Business.
Why Cashflow Circulatory System?
Are you struggling to Generate Cash & SCALE YOUR BUSINESS?
Do you wonder what it takes to make your business RECESSION PROOF & CASH RICH?
Are you getting into the TRAP OF MANAGING CREDIT CYCLES, paying Interests & Expenses?
Are you seriously looking for ways to get your business BACK IN SHAPE?
If you answered YES to all these questions, then you need to try an unusual yet effective method to Increase your Business ROI up to 3x without infusing extra funds, with  Cashflow Circulatory System workshop
How will Cashflow Circulatory System Workshop benefit you?
✅ Learn how to multiply your business RoI
✅ Create an evergreen positive cash flow
✅ Save 50% of your bad debts and loan cycles
✅ Know your business health in and out without financial knowhow
✅ Learn to analyze your numbers and take corrective action using leading indicator template
✅ Recover your blocked money
You can join the workshop only for Rs. 99 by clicking here :  Cashflow Circulatory System Workshop